Frequently asked questions
How do I use the Dye with the cactus Juice? What is the mixing rate?
I recommend starting out with a ratio of 1 oz per gallon of Cactus Juice. Add the dye to the Cactus Juice in a jug and shake vigorously. Then run a sample batch with the wood you plan to do to completion. After cured, cut in half lengthwise to see what the color inside looks like. If it is too dark, add clear Cactus Juice to your mix. If it is not dark enough, add more dye. Just keep in mind that it takes a LOT more dye than you think to get good color in most woods.
Hard woods will require more dye than soft punky woods. Wood color will also have an effect on the final product.
Suggested Starting Mix Ratio: 1oz per Gallon
Maximum Loading Ratio, Do Not Exceed: 4oz per Gallon
Do you ship worldwide?
Yes we do! Depending on the country, delivery will be between 2 and 5 days. But we are focusing on deliveries within the European Union. There are plenty of distributors of Turntex Cactus Juice around the other continents. You can order directly with Turntex, Texas for countries outside of the EU.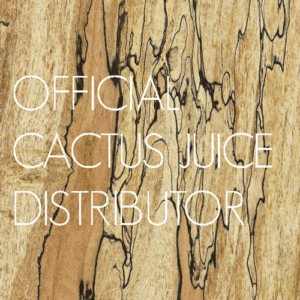 As it turns out 2021 will be a special year again! We saw in 2020 [...]